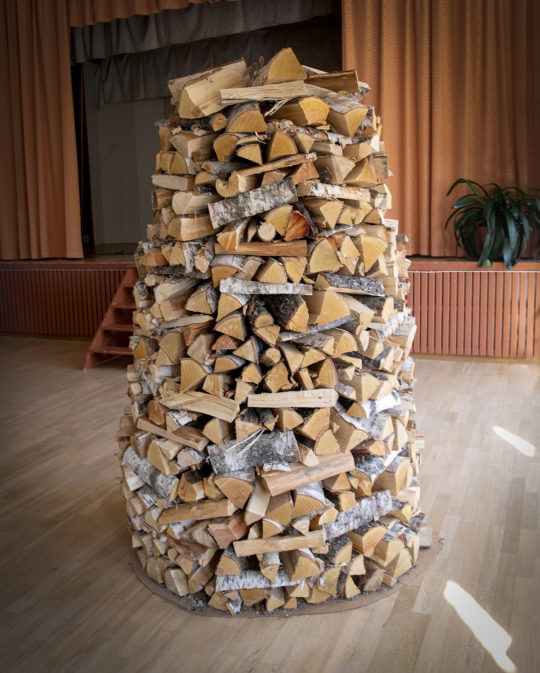 I only get to borrow the forest
2019
Participatory work and exhibition in Möklinta, within the framework of the artist-in-residence program A cultural life for everybody (EKFA), at the invitation of the Aguéli Museum
The exhibition in the Möklintas Community Center came as a result of a three-week artist residency in the village of Möklinta outside Sala, Sweden. The exhibition took its starting point in some of the stories and collaborations that the villagers of Möklinta had shared with me during my residency.
Together with the nonprofit association World Cup Woodpilers and Möklinta school's fourth graders, we built a woodpile in the middle of the Community Center's large hall. On the wall behind the woodpile was hung a photograph of the almost 18 metres high woodpile that was built in 1992 in Möklinta. The pile became the world's highest and led to the formation of the World Cup Woodpilers. The group has since worked as an NGO for disadvantaged families in Tukums, Latvia.
In another part of the hall, the local weaving group Möklinta Shuttlers showed their weaves. The group consists of around twenty members who have met and woven together for over 20 years.
Through the hall, the sound of the three church choirs of Möklinta, recorded during an exercise, echoed. From another speaker was heard the whisper of the wind, a direct sound from a microphone set in a tree just outside the Community Center.
Based on conversations with Möklinta residents, I produced quotes and installed them on one of the hall's short sides. Some quotes were also found in three photographs taken in an old forest in Möklinta. The title of the exhibition comes from one of the quotes. At the inauguration I performed a performance / reading.
Photographs nr 2 and 6 from the top are taken by Kenneth Friberg, the rest by My Lindh.
The residency was supported by the Aguéli Museum, Sala Municipality, Möklinta Community Center, The Region of Västmanland, Konstfrämjandet Västmanland and Kulturrådet.